Sometimes I have these jumbled thoughts that become un-jumbled as the day goes on. There are days when I save these thoughts for my
bits & pieces
posts but then there are days like today when I don't want to forget said thoughts or save them for the following week (this is just a taste of what life as Kiki is like, in case you're curious).
But I digress. I also got the chance to take some photos of roses in the park this afternoon (insert happy-face here)--so I'm not only sharing some thoughts, but some sunny rose-filled photos. Yes, I know, I should have taken these photos at the golden hour. But I'm okay with admitting my major photog-fail.
Also, I just have to say that I tried to stop and smell the roses. For me, that involved a very itchy twitchy nose. Being allergic to roses is wonderful, right?
I got to see my favorite preschoolers graduate! It was the cutest little ceremony--with their homemade laminated caps (complete with tassels!), ABC-singing, talent shows, and lots and lots of cute smiles. It was adorable and it made me miss being in the classroom even more.
I'm learning to forgive. Forgiveness is a hard thing, amiright? I'll admit it's much easier for me to say it than for me to truly and completely do it. And it was God's perfect timing that reminded me that I need to "B
e kind and compassionate to one another, forgiving each other, just as in Christ God forgave you" (Ephesians 4:31). If God can forgive my ugliest sins, than I need to forgive and let go of all of the little things people have done to me.
Seeing all of those preschoolers and their families also ignited a love for talking with their families. It's quite the miracle that those words have left my mouth because just this September this was my greatest fears as a student teacher. Nowadays, however, I've realized how kind they are (at least the ones I was blessed to get to know!), how much they love their kids, and how approachable they are, too.
When thinking back on my education and peer interactions, I came to the realization that we all say things that people will remember us by. My hope is that the words that leave my mouth are words of kindness, not words of hatred and hurt. This is something I hope to teach not only my future kids, but my future students as well.

I've also been thinking a lot about worth and who I'm seeking my worth from. Am I seeking my worth from others? From bloggers, and comments, and readers? Am I seeking my worth from my family, my friends, my teachers? Or am I seeking worth from God and God alone? This was a tough one for me to realize and accept where I was and need to be seeking my worth from.
And for all of my fellow
She Reads Truth
ladies, I realized that I've been fearing suffering lately. This month's study is on 1st Peter and
yesterday
's readings made me realize that I fear physical and emotional suffering. The comfort in this realization? The fact that Jesus suffered for me so there's no need for me to fear suffering any longer. Goodness, this devotional is amazing (and so is our Creator and Savior, amen?).
Happy weekend, friends! See you on Monday.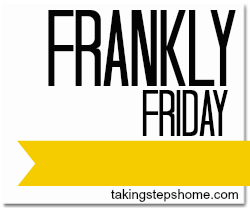 p.s. I'm
linking
this post up with my lovely friend
Amy
. She has this weekly link-up called
Frankly Friday
and I've always wanted to link up (her Friday posts are some of my faves to read) and I think this is the perfect post to do just that.