In His image.
We are created in His image.
With care, with purpose, and with love. That's kind of an abstract thing to grasp, isn't it?
In a world that focuses on outer appearances, beauty contests, and never-ending comparisons, it's easy for me to wonder how I could be created like Him. I mean, how could a girl who has
scars
on her face be made in His image? How could a girl who isn't model-perfect be made in His image?
But it's when I take a moment to look
beyond
the surface I realize I am. My scars are there for a purpose. My body was made for a purpose. He sees all of it as beautiful and He sees my sin-filled heart as beautiful, too.
I was struggling with this again last night. I struggled with trust, I struggled with comparison, and I struggled with being good enough.
But, it's when I opened up His word and began my daily devotional that I realized we're not made to be perfect. We're made to be
like
Him but not Him. We're born to
create
as He created us, we're born to
shine His light
as Jesus did on earth, we're born to
trust
as Jesus trusted God and His plans, we're born to
forgive
as He forgives us, and we're born to
love
as He loves each and every one of us.
We're born to be
like
Him and we are created perfectly, but we're
not
perfect people.
Doesn't that bring a sigh of relief?
It's a huge comfort to me. It means that I don't have to be perfect, I don't have to strive for perfection. I just get to live this life one day at a time, trusting Him, loving Him, loving others, and creating just as He created me.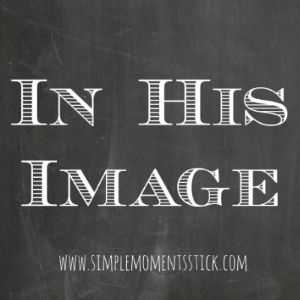 Psst...to read more posts on being created in His image and to link-up with a post of your own, read more here. Thanks for letting my join in, Susannah!