When I heard that
Amy
and
Leah
were hosting a new link-up about music and worship and Jesus, I knew this was a link-up for me.
That song, that moment
is all about sharing how God has used a song, a lyric, a few words, really to move us and remind us that we are His, amen?
I've said it before and will continue to say it again because I'm
still
amazed by how much God has used music to speak to me. He used it when I play(ed) music, when I sing with my church family, when I sing to the radio in the shower, and when I sing with the preschoolers in Sunday School. I'm a firm believer that music is my second language.
Okay, enough writing. These past few months my future seems to be going all over the place. I've actually shared this song
before
, but I heard it this week a few times and found myself singing the lyrics in the shower and that's when I knew it was the song God wanted me to share.
I'm done fighting, I'm finally letting go
I will trust in You
You've never failed before

If there's a road I should walk, help me find it
If I need to be still, give me peace for the moment
Whatever Your will, whatever Your will
Can You help me find it?
I'm giving You fear, you give me faith
I'm giving you doubt, You give me grace
For every step, I've never been alone
To be honest, I still don't know what lies ahead for me--but then again who does? What I do know is that all of these lyrics have continually helped me turn to God instead of fear and worry. I also know that they're a beautiful reminder that we're never alone. We've got God and more importantly, He's got us.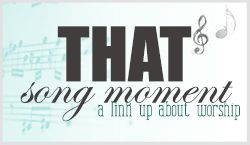 Thanks for letting me link-up, ladies! I can't wait to see what songs God's been using in your lives.
p.s. To see what other songs have moved me, click
here
.