Being grateful.
Being really, and truly grateful.
It's easier said than done, right?
This time of the year, it seems like gratitude is everywhere. It's on blogs, it's on Pinterest, it's even on Twitter and Instagram. It's hard to truly integrate into our lives 24/7, 365 days a year though, isn't it?
The day after Christmas, I often find myself wanting more. Wanting that other Christmas present, that other hairstyle, that other closet. It's why we want everything new in the new year.
But, I think it's important to be grateful and being grateful everyday can start now. There's no time like the present and there's no need to start a new goal or habit in January.
When I first heard about
Angela's new link-up
, I wasn't sure I'd be able to participate. But boy, am I glad I am. It's going to be a great chance for me to find those little blessings, count those blessings, and praise God for them, too.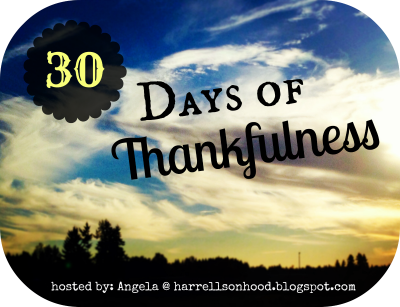 Join in on the fun, won't ya?
The link-up is all about sharing one blessing for each day of the past week. So, in an effort to be more grateful, here are my blessings from last week:
11/1 Babysitting jobs.
Spending time with cute kids--who wouldn't want to do that? Seriously, the kids I watch are some of the easiest kids I've ever had to babysit so it's more than a blessing to be able to watch them play, grow, and learn.
11/2 Thai food + lazy Saturdays.
This is what weekends are for, right? Good food and time spent relaxing. Honestly, I haven't appreciated all that weekends are until just recently so I am really and truly thankful for weekends.
11/3 Sunday naps.
Enough said.
11/4 Getting out of work early.
Coming home before it's dark out was such a nice change. It also meant I came home a little earlier to get caught up on some blog-reading, too!
11/5 Speaking Spanish with kids.
I haven't taken Spanish since my senior year in high school so I'm a little rusty, but fortunately God's blessed me with the ability to pick up a little and be able to talk to some of the kids in my class.
11/6 Field trips with kids.
They're exhausting (I've never done so many frantic headcounts before!) but the kids loved them and I loved seeing their excitement.
11/7 Quiet mornings.
Getting the chance to read a few blogs, pin a few pins, and watch a little morning news is the perfect start to my day. I may have to wake up a little earlier, but it's all worth it in the end.
What are you grateful for?
Be sure to link up with the always lovely
Angela
and check out what other bloggers are grateful for this week, too!