11/15 Weekends.
Even if I don't have anything planned, knowing that I have two days to relax and rejuvenate is good enough for me.
11/16 Christmas shopping.
I mentioned it
yesterday
, but I am so ready and excited for Christmas and Christmas shopping only puts me in the mood even more.
11/17 Filling my Operation Christmas Child shoebox.
This is a yearly tradition for my family and I and it is such a joy to fill and pray over a shoebox for a child around the world. It's now a goal of mine to deliver shoeboxes someday!
11/18 Proverbs 31.
I finished my 31 days of Proverbs this week and was so glad to end it with Proverbs 31. That book is seriously an inspiration and encouragement to me and to all women, no matter their age, career, or life stage.
11/19 Co-workers.
I know I've mentioned it before, but I am really and truly grateful for such a great group of fellow teachers that I get to work with. They know what I'm going through, they know how to make me laugh, and they know how to make good comebacks, too.
11/20 Hot showers.
There's nothing like a hot shower to warm you up, give you a chance to relax, sing out loud, and clear your mind and think through thoughts.
11/21 Going to bed early.
Sometimes, you just have to go to bed early and get a good night's sleep. A good night's sleep works wonders, right?
What are you thankful for? Tell me in the comments below or link-up with Angela, too!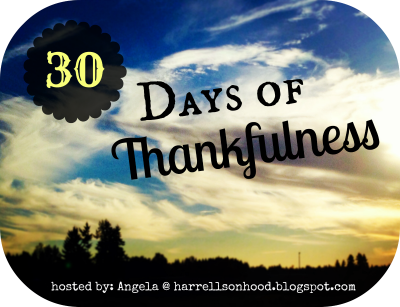 Happy Thursday, friends! And just so you know, I may or may not be taking over Christina's blog today. See you there!