Upon hearing that I'm a preschool teacher, many people instantly remark that I must be very patient.
That they definitely could
not
do my job. And while I understand that patience is key for teachers, I think it's also key for whatever job we're doing, whatever season we're in, and whatever it is that God's created us to be.
But to be honest, I'm not always patient--truth be told, I'm also not perfect (surprise!).
I have my good days and bad days and sometimes my patience wears thin. I think this is something that we can all relate to, though, no matter our job title.
When it comes to singleness and faith, I have my good days and bad days. And when it comes to patience in this season, the same is true, too.
Lately, I've been feeling like I'm living in a very stagnant season.
A season that's lasted forever, really, and sometimes I feel like God's not moving in my life. That He's skipped over me, worked in and on other people's lives, and that He isn't doing anything in my life.
I've been seeking dramatic changes and have forgotten that God works in many different ways. That He's creative and that I am different, unique, and my story is different than yours.
So when your life isn't moving, remember that God works in many ways.
That He works through big events and the tiniest of events, too.
That He is still there and always good.
That He has a plan, that's beautifully written and that while some chapters of your life seem long and drawn-out and never-ending, too, there are changes. He's changing your heart, your attitude, and the way you love.
Because He loved you first. Because He loves you in the season that you're in now, and because He'll love you no matter what.
p.s. Today I'm co-hosting
Susannah's Faith and Fellowship link-up
! This link-up is truly amazing and a great opportunity for us ladies to meet one another, lift one another up, and be encouraged by one another, too. I'm a co-host with some amazing co-hosts this time around and cannot wait to read your post!
Faith and Fellowship Guidelines
1. Link up a post (not just the link to your blog) from the week that shares what the Lord's been doing in your life or speaking to you.
2. Put the button on your blog post or blog so that others can hear about this wonderful group of Godly women.
3. Visit as many blogs as you're able and get to know your sisters in Christ!
4. Share this blog hop on social media using #faithandfellowship or pin the button on Pinterest.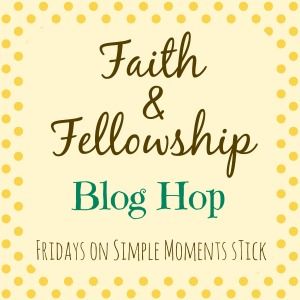 Your Host:
Your Cohosts:
If you'd like to cohost in the future, please email Susannah at susannah.kellogg (at) gmail.com