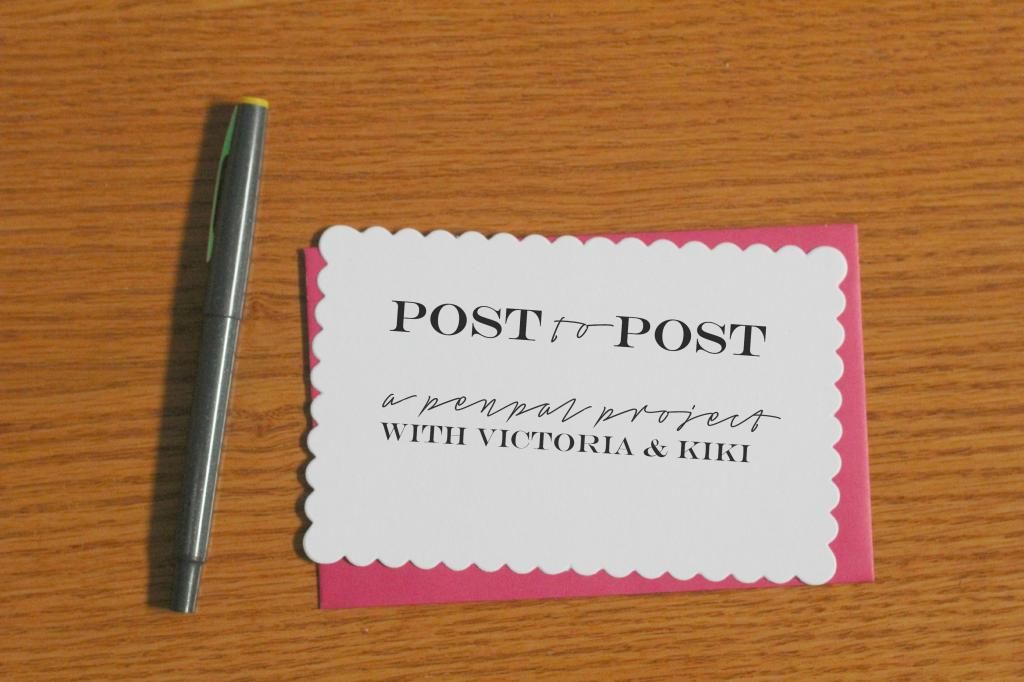 I think you all know how much I adore snail mail.
I mean, how can you go wrong with cute stationery, surprise mail, and a thoughtful note from a loved one? One of the things I've gotten a chance to do this year is exchange snail mail with fellow bloggers. And I have to say, taking that extra step to write and receive notes of encouragement is one of the greatest blessings I've received this year.
So when Victoria emailed me about collaborating on a snail mail project, I was all in.
As in alllllll in.
And I have to say, she's also the girl that you want to work with. She comes up with great ideas, is full of energy and passion, and is so much fun to email, too.
But I digress.
What is this Post to Post project, you ask?
Well, it's a chance for you to get a new pen pal and meet and get to know a fellow blogger!
Similar to an Etsy exchange, Victoria and I will pair you up with a fellow blogger and you'll write each other and exchange little notes, postcards, or maybe even Christmas cards.
It's something that I know takes a little time and commitment but is so worth it because of the friendship that will be formed with each letter that's written, sent, and received.
And if you're still interested, here are a few details worth reading before signing up:
+You'll be matched up with one fellow blogger.
Even though we hope to have many sign up, you'll only be exchanging letters with one blogger so you can get to know each other on a deeper level.
+That said, this first time around will be open to bloggers only.
If you're not a blogger, then you can start one today!
+This first exchange is also only open to US residents, too.
We're starting a little smaller so we can work out some details and kinks. I sincerely apologize to my international blogging friends who wanted to join in this time around!
+You will be asked to send one letter each month (so you'll also receive one letter each month!).
And don't worry about awkward letter writing because Victoria will be sending out emails with prompt ideas and such to keep it going.
+The commitment only runs through the rest of this year (ending in December 2014).
While we hope you'll never stop writing each other, we also know that letter writing takes time and we want to keep things realistic, too. So six letters will be written and six letters will be received. Sounds like fun, right?
So here's to writing letters, making new friends, and getting snail mail, too. And if you're also like me, it means you get to go shopping for some cute stationery, too.
The sign-up form is below and will be open until Monday, July 14th and pen pal assignments will be emailed out that Wednesday, July 16th.
p.s. Don't forget to grab a button and spread the word, pretty please! The more pen-pal-ers the better, as I like to say.